Digger
Jump to navigation
Jump to search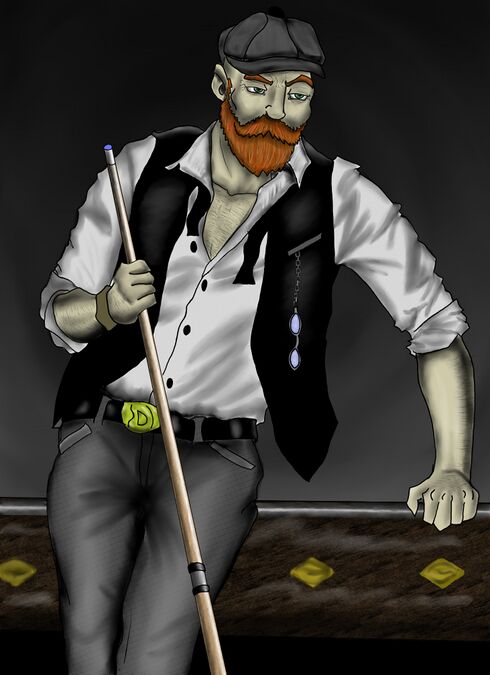 Maxwell "Digger" Diggins

"Democracy is the art and science of running the circus from the monkey cage."
- H. L. Mencken "
Physical Discription
Digger is an old man in a young man's body. He's dusty and rumpled, commonly wearing fashions several decades out of style. Waistcoat and bow ties, sleeves rolled to the elbows, with an antiquated pair of prince nez readers dangling from a chain tucked into his breast pocket. He has a bit of a paunch, and eyes that naturally squint in what could easily be viewed as suspicion.

Public Knowledge
Clan: Gangrel
Clan Faction: Outlaw
Sect: Anarch
Sect Faction: Anarch Railroad
Status: Ancilla
Path: Humanity
Known Homebody. Inexplicably disappears for months at a time every few decades.
Scholar of Kindred history.
Even Tempered, occaisionally to the point of flippancy.
Timeline
1809 – Born to rural farmers in what would become Middle Georgia.
1824-31 – Leaves home to pursue higher education in Athens. University of Georgia application is denied. Spends the next several years cobbling together an education through odd job work and bartering with both current students and faculty.
1833 –Returns home to what is now Macon, Georgia at the request of his ailing father. Attempts to found a school available to students unable to afford private education, but is stymied by Georgia's meager funding for education. Begins teaching in secret accepting anyone willing to attend, regardless of circumstances.
1835 - Becomes involved with the Underground Railroad. Family farm is established as a Way Station.
1840-44 – Embraced by mad Primal obsessed with survival of the fittest. Wakes up in the ruins of an Olmec village in South America. Runs afoul of local Kindred, and escapes by the skin of his teeth with the help of [Unknown]. Fascinated by the Olmec glyphs coupled with his new condition, becomes fixated on Kindred culture and history, to the consternation of his sire.
1865 – Macon ccupied by Union forces. Hunters use chaos of the occupation as a cover for their activities, destroying Toreador and Brujah Primogen, as well as causes significant damage to historically significant sites. Digger, enraged by the destruction of irreplacable artifacts, organizes Nosferatu and Gangrel within the city to push rodents and vermin into the occupying supply chains, helping to route the Hunter attack.
1868 - Digger is abducted and rendered into torpor. He awakes again deep in the heart of the Ocmulgee Indian Mounds, running afoul of local lupines and barely escaping with his life. The word "SURVIVE" is carved into the inside of his arm. The wound heals, but legible scars remain to remind him of his place.
1971-74 – Ventrue influence move of Mercer University to Macon from Penfield. Digger begins funneling resources into the growing education and library system.
XXXX –
XXXX -
2012 - Subdued by an unkown source (believed to be his sire), awakens nude in the Chicago Zoo, inside the bear den. Escapes, with only minor injuries, and becomes embroiled in a plot to assassinate Chicago's Baron White.
XXXX -
2018 – Advocated for the democratization of Macon Anarchs. Witnessed the Gangrel Penelope rise to power.
2019 –
XXXX -

Rumors
Know a rumor? Add it!
Know a rumor? Add it!
Know a rumor? Add it!
Know a rumor? Add it!
Know a rumor? Add it!
Allies, Enemies, & Associates
<tbody> </tbody>
OOC Information
Player: Sean C.
Player Email: iximonkeyking@gmail.com
MES Number: US2019010088
Region: Southeast Region
Domain: Sanguine Barghest GA-016-D
VSS: Mysteries on the Night
Territory: Warner Robins, GA
VST: Brian W.
VST Email: mesmaconvstmasq@gmail.com